If you haven't read the new OSAP white paper and recommendations on Dental Unit Water Quality, you've probably heard about it.

Published in October of 2018, this journal piece written by Shannon Mills, DDS, Nuala Porteous, BDS, MPH, and Jeff Zawada, PhD, is the most comprehensive and up-to-date piece on waterline maintenance. It calls the dental health care professional as well as dental unit and water treatment manufacturers to the highest standards based on the latest research in waterline safety.
View the entire OSAP white paper and recommendations on dental unit water quality here.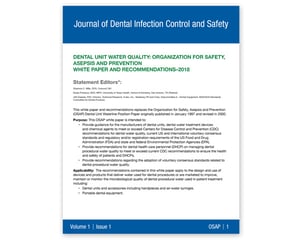 As a dedicated dental pro, the question for you now becomes, what do I do next? With all of these recommendations, how do I efficiently and effectively ensure both my patients and my practice are safe from waterline contamination.
We thought you would never ask. Here are 10 action items to take away from the OSAP recommendations on dental unit water quality.
10 Action ItemS YOUR PRACTICE CAN USE FROM THE OSAP RECOMMENDATIONS ON WATER QUALITY
1. Take Waterline Safety Seriously
In the white paper, OSAP explains why DUWLs are more susceptible to the growth of biofilm and the proliferation of "potentially pathogenic microorganisms". and calls upon DHCPs to apply the precautionary principle. This strategy suggests that where "there is plausible risk of harm to patients or health-care workers if the risk is not remediated" it is right to develop an effective strategy to mitigate those risks (P. 13). Put the welfare of patients first by treating and testing your waterlines.
2. Review Treatment Product instructions For Use carefully
Follow the instructions for use from your waterline treatment and dental unit manufacturers closely. "Review instructions for use from the dental unit or device manufacturer for controlling contamination in the waterlines and maintaining the quality of dental procedural water" (P. 14). Too often, dental pro's are sold one thing when the instructions suggest another.
3. TEST YOUR WATERLINES Regularly:
OSAP recommends that when you first start testing or change your treatment protocol, test your waterlines monthly to ensure the protocol is being followed correctly and it is effectively cleaning your waterlines. Then, once you have developed consistent passing results for consecutive months, test quarterly. If "dental unit exceeds the action limit for an initial or periodic test, the unit should be treated according to manufacturer IFU, and re-tested immediately after treatment" (P. 17).
4. Shock your waterlines to ensure continuous treatments are effective
Shocking your waterlines is the process of using a strong disinfecting agent to rid your lines of nearly all bacteria. This is a very important aspect of effective dental unit waterline maintenance that allows continuous treatments like tablets and straws to work most effectively. Learn how and how often to shock your waterlines here.
5. DEVELOP AND IMPLEMENT STANDARD OPERATING PROCEDURES (SOP)
Consistency is a key determinate of waterline safety compliance. The development and implementation of Standard Operating Procedures (SOP) in your office will help create that consistency across operatories, staff, and offices. Test your waterlines to ensure your procedures are effective and fine tune as needed.
6. Document your procedures & Identify a IC Coordinator
If there is ever a complaint against your office, it is likely OSHA, the Department of Health, or the Dental Board will request documentation proving your infection control compliance. And in those situations, you always want to show your practice is above board. Document your waterline maintenance procedures and test results and include the procedure for recording these in your SOP. OSAP & the CDC recommend identifying an Infection Control/Prevention Coordinator or Dental Safety Coordinator who could, among other duties, help ensure that procedural water quality testing records are maintained and ready should a request for water testing documentation is made.
7. Do NOT Rely on R/O Units or Distillers
OSAPs paper states, "Distillers, reverse osmosis and microfiltration devices that can remove microorganisms from procedural water... do not effectively limit the growth of biofilm in DUWL or reservoirs without addition of germicidal agents or other anti-biofilm treatment" (P. 9). These cannot and should not be relied upon as a solo means of controlling those organisms that can thrive and colonize within biofilm. If a manufacturer or sales representative makes that claim, we recommend getting that in writing before making such a sizable investment.


8. Flush for 20-30 seconds at the beginning and end of every day and between patients
OSAP and the CDC recommend that you, "Flush waterlines for 20-30 seconds at the beginning and end of day and between patients to remove patient material potentially retracted during treatment" (P. 14, 15). This is a good practice that helps mitigate water stagnation within the lines making it harder for biofilm to form. However, OSAP "does not recommend flushing as a sole means to improve dental procedural water quality" (P. 15).


9. Utilize sterile water when:
"Use only sterile solutions for coolant and irrigation supplied by a sterile device for surgical procedures that involve the incision, excision, or reflection of tissue that exposes initially sterile areas of the oral cavity" (P. 14) as well as non-surgical tooth extractions, gingival procedures, and non-surgical endodontic procedures.

10. Stay informed



OSAP's recommendations call on all dental pro's to "Make a reasonable effort to stay informed about current recommendations on the use of water for dental treatment and on the control of microbial biofilm contamination in DUWLs" (P. 14). Work with an infection control consultant, stay updated in CE, and regularly test your waterlines. ProEdge would add that partnering with a dental water lab you trust is a great way to stay ahead of this so your practice can focus more on dental care and less on waterline maintenance... but hey, whatever floats your boat.


Get Yourself a Waterline Partner
You didn't get into dentistry to spend your time and resources on maintaining waterlines, but we did. We love to partner with dedicated dental professionals to help them take water safety off their list of worries.
Our staff works with thousands of offices each year to test their water, improve their results, and develop best practices. Each office that tests with ProEdge receives FREE consultations, FREE resources, and the best customer service available. Doesn't matter what treatment you use; we just want to help you ensure the safety of your patients and practice.

DOWNLOAD OSAP COMPLIANT MAINTENANCE PROTOCOL HERE:



--
Mills, Shannon E., Nuala Porteous, Jeff Zawada, "Dental Unit Water Quality: Organization For Safety, Asepsis And Prevention White Paper And Recommendations–2018." Journal of Dental Infection Control and Infection, Vol 1, Issue 1, 31 October, 2018. https://osapjdics.scholasticahq.com/article/5075-dental-unit-water-quality-organization-for-safety-asepsis-and-prevention-white-paper-and-recommendations-2018