Last year at the Annual Conference hosted by the Organization for Safety, Asepsis, and Prevention (OSAP), there was a Q & A with a handful of the leading dental infection control experts, including Shannon Mills, DDS and John A. Molinari, PhD. One of the first questions asked of the panel was "What is the most pressing infection control issue facing dentistry over the next five years?"
Shannon Mills was given the microphone first and without hesitation stated "Dental unit waterlines" and handed the microphone to Molinari. Without skipping a beat, Molinari responded, "Dental unit waterlines".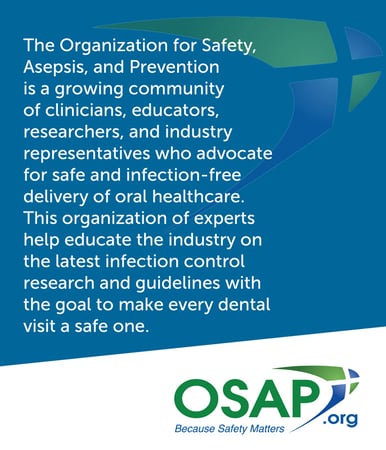 And on it went down the line of panel members.
Dental waterline contamination is a relatively new area of scientific study that continues to evolve. The industry learns more and more everyday with new research in treatment development and biofilm behavior.
And it is the current combination of importance and misinformation that drove OSAP to publish a white paper and recommendations on dental unit water quality in their first ever edition (Oct, 2018) in their Journal of Dental Infection Control and Safety.
AN IMpressive Collaboration of Top Minds
Written by Shannon E. Mills, DDS, Nuala Porteous, BDS, MPH of the University of Texas Health, and Jeff Zawada, PhD of A-Dec, Inc., with collaborators from other universities and industry affiliations, this journal piece is the most comprehensive paper done on waterline maintenance to date. The goal is to provide guidance to both dental healthcare professionals (DHCP) and manufacturers on best practices to ensure safe water delivery to patients.
With the disastrous outbreaks in dental clinics in California and Georgia in the very recent past, this paper affirms CDC guidelines and provides the concrete applications and scientific rationale for DHCPs on how to meet and exceed standards for dental unit water quality.
In short, OSAP's paper on dental water quality provides a roadmap of how DHCPs can keep patients safe.
The PRoblem with DeNtal Unit Waterlines
"The use of water with high levels of bacterial contamination for dental therapeutic procedures however, is inconsistent with recognized standards of infection control and can potentially undermine public confidence in the dental profession... All members of the dental profession and dental industry have an obligation to ensure the health and safety of dental patients and staff" (P. 7,24 - all pages refer to the OSAP recommendations).
The often stagnant water within dental unit water lines can carry higher levels of lipopolysaccharide (LPS also known as endotoxin) and can be a breeding ground for Pseudomonas aeruginosa, Legionella series, non-tuberculosis mycobacteria (NTM) and mycobacterium abscessus (the bacteria responsible for devastating effects for on 71 healthy pediatric patients in the Anaheim and 22 in Georgia).
"The narrow diameter of dental unit waterlines (DUWLs)...increases the surface area available for biofilm growth relative to the volume of water in the lines, leading to levels of microbial contamination..." (P. 6).
The success of your practice's water quality has many variables including, "dental unit design characteristics, efficacy and compatibility of germicidal or cleaning products, input water quality, and staff compliance. This inherent complexity can lead to treatment failure even with products that have shown excellent results in laboratory or controlled clinical settings" (P. 10-11).
However, with help from OSAP, the DHCP can have a dependable baseline guidance for treatment and testing frequency, methods, and remediation to assist you in compliance.
MAKING SURE YOUR PRACTICE KNOWS HOW TO BE IN COMPLIANCE
Every year brings new research and technology to effectively maintain your practice's dental unit waterlines, however, the onus is on the DHCP to ensure that an effective standard operating procedure (SOP) is both developed and followed and that the action limit for water is not exceeded.
"...there has been significant progress in developing reliable and economical engineering methods to mitigate the formation of biofilm in dental unit waterlines... When used as directed, these agents and devices enable dentists to provide procedural water of acceptable quality with minimal impact on dental equipment or materials" (P. 9).
For long-term success, OSAP makes the following general recommendations to DHCPs...
Make a reasonable effort to stay informed about current recommendations on the use of water for dental treatment and on the control of microbial biofilm contamination in DUWLs.
Review instructions for use from the dental unit or device manufacturer for controlling contamination in the waterlines and maintaining the quality of dental procedural water.
Obtain and review information on the safety, effectiveness and compatibility with dental equipment when selecting germicidal products and devices for controlling biofilm colonization in dental water systems.
Flush waterlines for 20-30 seconds at the beginning and end of day and between patients to remove patient material potentially retracted during treatment (refer to Section 2.2 for specific flushing recommendations).
Use only sterile solutions for coolant and irrigation supplied by a sterile device for surgical procedures that involve the incision, excision, or reflection of tissue that exposes initially sterile areas of the oral cavity…
Monitor and document dental unit water quality regularly according to the directions for use provided for the dental device, germicidal product or biofilm prevention device...
Develop and implement Standard Operating Procedures (SOP) for maintaining, monitoring and documenting dental procedural water quality that are consistent with the recommendations presented here and manufacturer IFUs for the equipment, devices, germicides and monitoring methods used in the clinic as part of the clinic's overall Infection Control Plan
Educate all members of the dental team on the importance of managing dental water quality and provide training in compliance with SOPs to ensure a safe, infection free environment for patients and DHCPs (P. 14).
View entire white paper: Dental Unit Water Quality: Organization for Safety, Asepsis and Prevention White Paper and Recommendations– 2018

DOWNLOAD OSAP COMPLIANT MAINTENANCE PROTOCOL HERE:



OSAP's RECOMMENDations FOR water TESTING / Monitoring?
The EPA defines the action limit, or control limit, as, "A single measured value that falls outside these [control] limits normally requires that one stop the measurement process, investigate the problem, and if necessary take corrective action" (P. 16). For non-surgical dental treatment water, the CDC guideline says dental water should the same or better than the quality of safe drinking water (≤ 500 CFU/mL). That's your action limit.
In general, OSAP maintains that while the action limit is affirmed, both "manufacturers and practitioners should strive to reduce levels of bacterial contamination to the lowest levels achievable as measured using standard microbiological methods including new technologies as they become available" (P. 13).
To accomplish this, regular and reliable testing must be conducted.
Using 3rd Party Laboratory Testing
According to OSAP, laboratory testing has 3 advantages over in-office testing. "Laboratory testing using standard agar plate test methods can provide more accurate counts than in-office test kits and provide better baseline measures and provide an external validation of in-office monitoring program" (P. 17).
As in all methods, it's critical that the DHCPs follow instructions for the collection, germicide neutralization, and shipping of samples for the most accurate results.
Using In-Office Water TESTING
In-office testing, while on the whole less accurate, can provide cost or time savings to the dental practice. OSAP suggests that in-office testing used more frequently and in conjunction with laboratory can be very effective.
"In-office test kits used on a more frequent basis however, may help ensure staff compliance with biofilm mitigation protocols and provide early warning of problems with biofilm control" (P. 17).
If used, OSAP recommends users "neutralize residual germicide" to ensure accurate reporting (see below).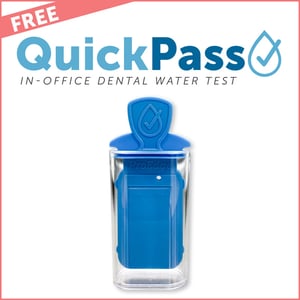 Note: ProEdge's QuickPassTM In-Office Dental Water Test is the only in-office water test to include neutralization within the test paddle.
Get a free sample of the QuickPass™ In-Office Dental Water Test
Necessary Methods for Testing Reliability
R2A & Filtration Testing Methods - Heterotrophic Plate Count
Specific water testing methods are recommended for the dental setting for most reliable and actionable results:
"Users should request that water be tested using the most current version of the spread plate R2A agar method (9215C) or membrane filtration method (9215D) from Standard Methods for the Evaluation of Water and Wastewater published by the American Water Works Association (AWWA) or the most current equivalent method" (P. 15).
Neutralization
The dental industry is unique in that there a several chemicals present within its waterlines working to keep lines clean, including that of treatment products - chlorine, flouride, silver, iodine, etc.
Neutralization is the process of nullifying any of the residual antimicrobials within water samples so they do not contribute to false-negatives during incubation. OSAP suggests this is a critical step for reliability with either laboratory or in-office testing.
Review ProEdge's neutralization effectiveness data for each major dental water treatment active ingredient.
Testing for Specific Organisms:
"Test for specific pathogens... only to investigate the source of infection(s)... as directed by local or state health authorities" (P. 17).
Testing Frequency
While there's a lack of consensus among various dental unit and treatment manufacturers, OSAP's recommendations align with A-Dec's Waterline Maintenance Guide, the US Air Force Dental Evaluation & Consultation Service, ProEdge's 3 Steps to Safe Water protocol and several industry experts (P. 17):
Test within one month "on each dental unit or device following installation of treatment
devices or initiation of new protocols."
Test your waterlines every month to start.
Once you have all passing lines two months in a row, test quarterly.
However, if "dental unit exceeds the action limit for an initial or periodic test, the unit should be treated according to manufacturer IFU, and re-tested immediately after treatment."
Further, OSAP recommends that "monitoring be performed periodically regardless of the product or protocol used to manage dental procedural water quality, even when manufacturer directions for monitoring are absent or unclear." (P. 11)
This aligns with what the CDC and ADA reiterate - that regular clinical monitoring of your waterline safety is the only way to ensure that treatment procedures are performed correctly and that your water exceeds the standard for safety (≤ 500 CFU/mL).

Learn the 3 Steps to Safe Water Here:


What ProEdge Is Doing to Help Compliance
First, ProEdge Dental Water Labs testing methods and treatment protocols align with these new recommendations as well as the manufacturer recommendations below.
Our team is dedicated to making sure our team is always providing you with the most reliable testing results and effective treatment protocols. You can learn more about implementing your water monitoring program by reading The Comprehensive Dental Water Testing Guide or review the 3 Steps for Every Effective Waterline Treatment Protocol.
We encourage you to work with your dental unit manufacturer, water treatment product manufacturer, and sales rep to fully understand their instructions for use and reprocessing recommendations to ensure the success of your waterline maintenance procedures.
OSAP's paper calls us dental treatment manufacturers to high standards as well. They suggest that treatment manufacturers...
"...develop a scientifically validated procedure for the use of their product with dental units and other devices which deliver dental procedural water, verifying that their product is capable of meeting or exceeding current CDC recommendation…"
"...provide users with instructions for collection of germicide free samples or neutralization of germicide residual to obtain the most accurate bacterial counts using plate count methods…"
"...provide complete and easily understood instructions for the validated procedures associated with their product to meet or exceed current CDC recommendations for the microbial quality of water used in dentistry."
"Where applicable, manufacturers should verify the effectiveness of products and associated procedures using standard test method…"
"...provide comprehensive and easily understood guidance for periodic inspection, maintenance, replacement and trouble-shooting of dental units and devices intended to control or improve dental procedural water quality."
"...continuously improve the design and performance of dental devices and waterline treatment products to provide cost effective methods for controlling the quality of dental procedural water delivered by dental units and other devices."
"OSAP encourages all stakeholders to take immediate measures to conform with current recommendations for water quality and to continuously strive to develop new approaches to ensure the quality of water used in dental practices" (P. 24).
DHCPs all have a responsibility to ensure patients are safe and well-cared for. After all, that's why they're in your chairs - because they trust you to help them live healthier lives. We know you take that seriously. In the same way, we take your trust seriously. That's why, as a dental lab and manufacturer, we will always align with and support the latest in waterline safety research.
--
Mills, Shannon E., Nuala Porteous, Jeff Zawada, "Dental Unit Water Quality: Organization For Safety, Asepsis And Prevention White Paper And Recommendations–2018." Journal of Dental Infection Control and Infection, Vol 1, Issue 1, 31 October, 2018. https://osapjdics.scholasticahq.com/article/5075-dental-unit-water-quality-organization-for-safety-asepsis-and-prevention-white-paper-and-recommendations-2018