Developing a dental waterline treatment protocol (or procedure or strategy) isn't difficult. Developing one that works, however, can be. There's a lot of confusion out there about what works and what's necessary.
But treating dental water isn't about microbial contamination or even DUWLs; it's about delivering on a commitment to high standards in patient care. With that dedication and a little help from experts, your practice can achieve and maintain safe dental water.
Holistic dental waterline treatment involves 3 Main Steps:
Shocking Your Waterlines
Effective Dental Unit Waterline Treatments
Testing For Assurance
Correct implementation of ALL these elements are essential for the highest levels of waterline care. Without all three, there's a good chance your waterlines won't be as safe as you think.
1. Shocking Your Waterlines
The value of shocking your waterlines is often misunderstood or left out of the conversation entirely. Over and over, our team has found that every treatment protocol will be unsuccessful long-term without consistent shocking. Treatments are engineered to maintain already safe lines. Shocking is the process that removes bacteria from the line.
Our dental water experts have found using diluted household bleach as the most effective and affordable solution. Used correctly, bleach will clear your dental water lines of bacteria in just 10 minutes. our water experts are here to help.
There are other effective shock treatments out there and we've created a guide to help: How to Shock Your Dental Waterlines. If you have any troubles, our team has experience working with every combination of equipment and treatment protocol available, so don't hesitate to call.

Learn the 3 Steps to Safe Water:


2. Effective Dental Unit Waterline Treatments
While shocking your waterlines effectively clears them of biofilm, studies show that without relying on a proven treatment solution to maintain purity, biofilm can regrow to massive amounts in just four days in your dental waterlines.
Dental waterline treatments inhibit and reduce the growth of biofilm, and are recommended by the American Dental Association, Center for Disease Control, and the Food & Drug Administration.
There are a variety of products available, but not every product proves effective. Review our lab's research from over 20,000 water tests in the Dental Water Treatment Product Selection Guide to help you determine the best dental water treatment protocol for your practice.
You'll see why we're pretty proud of our own BluTab, winner of the 2017 Dental Townie Choice Award . It's specially formulated to be continuously present in your dental unit waterlines to provide the optimum level of safety to your patients and practice.
3. Testing for Assurance
Every treatment can fail. Regardless of the reason, this is important to mention. You might be spending thousands of dollars and not actually ever improve the safety of your water for your patients.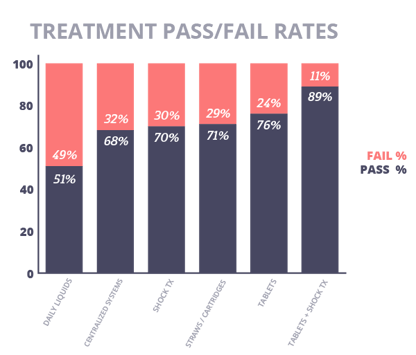 Testing is not only recommended by the CDC, ADA, and FDA, but also state it's the only way to ensure your protocol is working.
Dental waterline testing becomes, then, the foundation of every effective dental waterline treatment strategy. The CDC guidelines state that dental water should contain less than 500 CFU/mL (colony-forming units per milliliter) of microbial contamination in order to provide a safe environment for your patients. Without testing, it is impossible to know whether your team is spending time and money on a successful protocol.
Test your water to get a clear picture of the safety of your practice's water and be assured your practice is offering the great standard of care you work hard for.

DOWNLOAD THE PROVEN SAFE WATER PROTOCOL
HERE:



ADDITIONAL Resources:
Dental Water Treatment Product Selection Guide
Three Necessary Aspects of Every Dental Waterline Treatment Protocol
Dental Water Testing - A Comprehensive Guide
Calling All California Dental Pros to Higher Water Safety Standards - Assembly Bill 1277
OSHA Infection Prevention Expert: Kim Laudenslager on Dental Waterline Testing