(Updated June 19, 2019)
In 2016, a dental unit waterline contamination at a pediatric practice in Anaheim, California led to mycobacterium abscessus infections in at least 71 children.
The practice was part of a 12-office group before being ordered to shut down by the Orange Country department of health after 5 waterline samples came back positive when tested for mycobacterium abscessus. Over the course of a few weeks, dozens of children between the ages of 2 and 11 began showing up to the hospital complaining of facial swelling and pain.
The Face of the OUtbreak, Mimi Morales
Mimi Morales was the 7 year-old who quickly became the face of the outbreak that left 70 patients (98.5% of the 71 confirmed cases) requiring hospitalization and surgery (Singh, et al).
"The doctor said he removed as much bone as he could without disfiguring her," said Mimi's grandmother ("7 Year-Old Loses").
After a root canal, Mimi developed a fever and her mouth began to swell. An oral surgeon removed part of her jaw bone and Mimi lost permanent teeth. Heavy doses of antibiotics with serious potential side effects usually used for bacteria resistant strains were prescribed to fight her infection for months.
Even after Mimi recovers, she will require significant additional dental work, including bone grafting, to receive her dental implants which will have to wait until she turns 18 years old.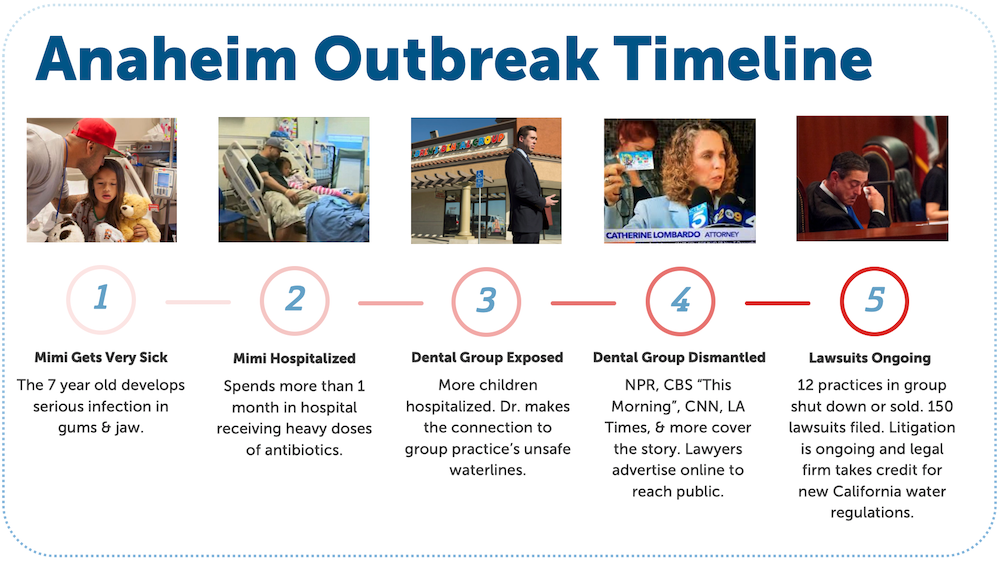 See complete timeline below
Infectious Disease Doctor Plays Detective
While Anaheim's outbreak – and it's counterpart in Atlanta in 2015 – is unusual, it is likely there are many infections that are never linked to dental waterline contamination. The discovery that Anaheim was an outbreak started with a set of fortunate circumstances and a dedicated pediatric doctor.
One weekend over the summer, Dr. Negar Ashouri, a pediatric infectious disease specialist, happened to be on call when one of the first patients came into the hospital. The patient required surgery and eventually lab results revealed a mycobacterium infection.
Up to that time, Dr. Ashouri had never seen such a severe oral infection.
About a month later, Dr. Ashouri just so happened to be on call again, and another young girl came into the hospital with similar symptoms.
When Dr. Ashouri saw the similarities, she called the family of the first patient and started putting the pieces together. Both had undergone procedures at the same practice in Anaheim.
The doctor notified the county health department and a full investigation was launched. More and more children started arriving in the hospital. They were given CT scans, blood tests, surgery, and month's worth of federally regulated intravenous antibiotics originally developed to treat leprosy.
Dr. Ashouri and her colleagues worked overtime. "It reaffirms the reason why we all went into medicine. It all comes down to the kids" ("Most Influential 2016").
"The natural question is how many more cases would have happened if Dr. Ashouri hadn't recognized this connection?", said Dr. Matt Zahn, Director of Epidemiology for Orange County's Health Care Agency ("Most Influential 2016").
The Outbreak Catches Attention
Multiple local news sources caught the story. News trucks began parking outside their doors.
Then, national outlets like CNN, NPR, and Good Morning America ran headlines bringing widespread attention to the scene.
Lawyers began advertising on Google and network television seeking families that may have been affected. Hundreds of claims were filed. In January 2019, the Orange County Register reported that there are 150 ongoing lawsuits filed against the practice, with more expected to come.
How Could This Happen?
Most of the time, this question is answered with frustration toward the dental practice. And without question, it was their responsibility to maintain their waterlines and keep their patients safe.
What needs to be expressed, however, is that some practices continue to not treat their waterlines and many that have implemented a treatment, do not test to confirm their treatment is effective.
In 2017, ProEdge conducted the largest real-world treatment efficacy study to date. Cited in the article "Treating & Monitoring Dental Water" by John A. Molinari, PhD and Nancy Dewhirst, BS, RDH, this study of over 22,000 real-world waterline tests found that 31% of treated waterlines still fail to meet the CDC standard of ≤ 500 CFU/mL for safe water. Additionally, 61% of practices had at least one failed waterline.
A lot of practices are in a situation that could pose harm to patients and dental healthcare professionals.
Waterlines with greater CFU counts create the environment for pathogens like mycobacterium abscessus to thrive. An effective waterline treatment protocol is necessary to keep the waterline environment free from biofilm so your patients – and your practice – are safe.
The Response to the Infections
The dental healthcare professionals working inside were as surprised and horrified as everyone else - perhaps even more so. Unfortunately, well-intentioned as they may have been, it wasn't enough.
When the connection to their waterlines was made, the practice made every effort to resolve the problem. They followed the department of health's orders, notified their patients, and consulted with two 3rd party water laboratories to develop consistent shocking procedures, continuous treatment solutions, and ongoing testing. The practice replaced the entire water system and was going above and beyond.
However, mycobacterium was found once again in a sink and the practice was ordered to shut down.
Had the practice been regularly treating and testing prior to the infections, they would have discovered a biofilm problem and been able to remedy it before patients were harmed.
The Full Impact of the Outbreak
The practice where the infections occurred was shut down and the others in the group are under new ownership.
The following data is published by the Open Forum Infectious Diseases, Volume 5, and details the full impact of the Anaheim outbreak:
"Of 1,089 patients at risk, 71 cases (22 (31%) confirmed and 49 (69%) probable) (Figure 1) had been identified as of March 19, 2018 (Figure 2). Median case age was 6 years (range 2–11 years). Symptoms began a median of 85 days (range 1–409 days) after pulpotomy (Figure 3). Pain and/or swelling on admission were reported in 79%; 21% were asymptomatic. CT findings included 49/70 with abnormalities of the mandible or maxilla, 13/70 with lymphadenopathy, and 19/68 with pulmonary nodules. Only 6/60 had erythrocyte sedimentation rate >40 mm/hour. Of 71 cases, 70 were hospitalized and underwent surgical debridement, for an average of 8.5 inpatient days (range 1–60 days); 23 had >1 hospitalization and 26 required >1 inpatient surgery. Permanent teeth were lost in 45/65 (range of 1–6 teeth lost). Intravenous antibiotics were administered to 32 cases for a median length of 137 days (range 113–282 days). Clofazimine was obtained for 29/32 cases as part of the regimen. Medical therapy was complicated by peripherally inserted central catheter malfunction/replacement/infection (18/27), rash (2/27), neutropenia (12/27), and elevated creatinine (7/27). All treated children showed evidence of jaw healing with resolved or improving lung nodules at 1-year follow-up" (Singh, et al).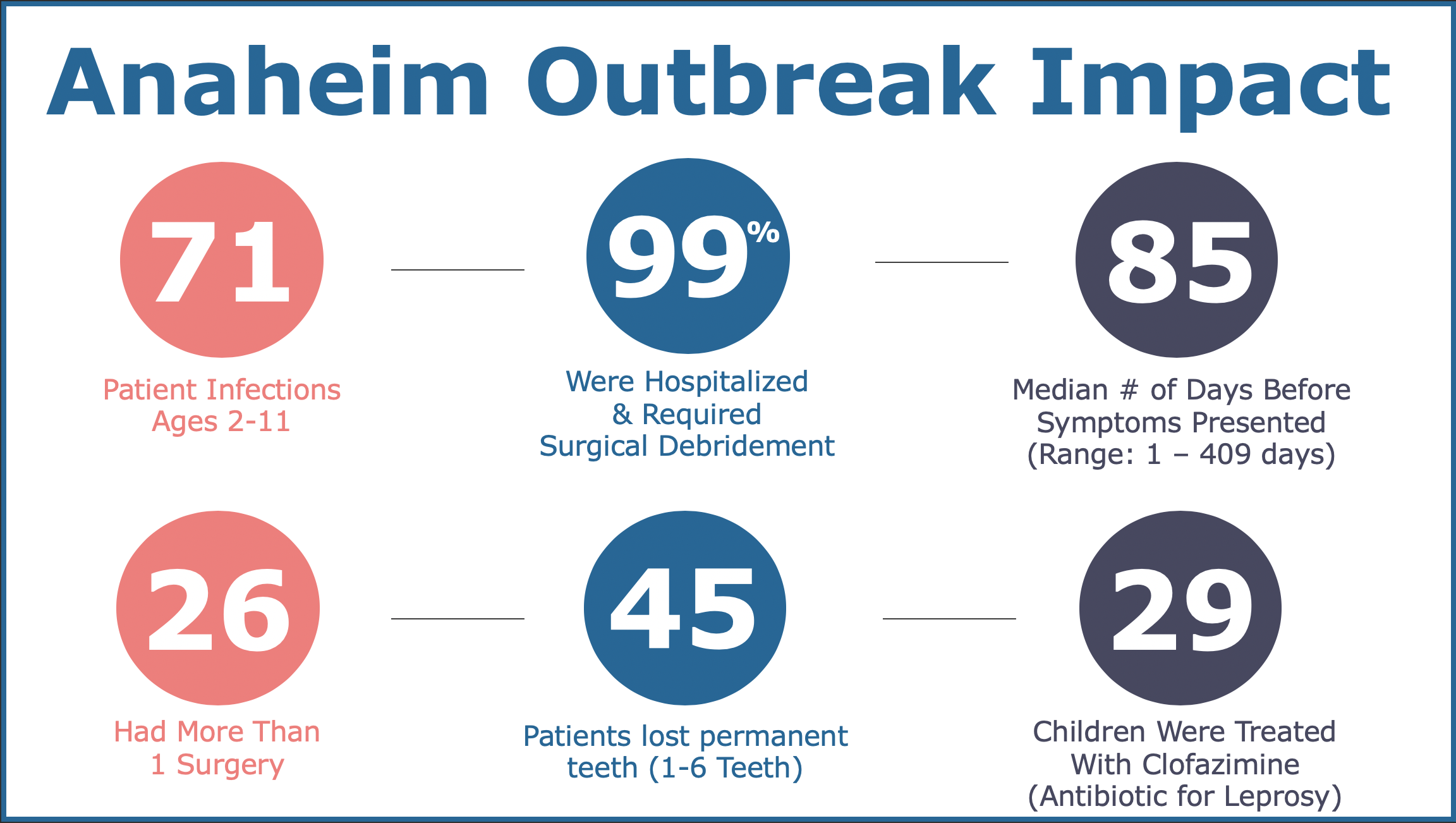 The severity of this situation takes on another level of intensity looking at these numbers. But we all know it intuitively.
Like Anthony Garcia, a father of one of the children infected said, "This should never happen to any family again" ("65 More Families").
Make Sure Your Practice Has Safe Water
While scenarios like this are rare, there are not flukes – just one year earlier, a similar disaster occurred from contaminated dental water in a Georgia dental clinic with 20 confirmed cases of children who suffered the same trauma as those in California.
We in the dental industry need to ensure the patients sitting in our chairs receive the best care. After all, that's why they chose your office and it's why we got into this profession.
ProEdge offers free resources to help any practice develop an effective waterline protocol or test their existing one. Click below or call the team @ ProEdge today.

Get started with These Free Resources:

What to do if Infections Are Linked to your practice
As a dental water lab, ProEdge has been a part of other infections linked to dental waterlines that did not receive the kind of news coverage Anaheim's outbreak did. Because of this, we have helped practices when they realize they need to quickly ensure their waterlines are safe moving forward.
If this situation arises, take it seriously and take the following the CDC's recommended precautions:
It is always best to act on the side of caution and get the appropriate stakeholders involved.
ProEdge is able to provide a support role during this process, but the health department must be contacted and your infection control consultant should be involved.
Anaheim Outbreak Timeline
January thru September, 2016 – Practice performs pulpotomies on 1,089 children
September 6, 2016 – Practice stopped doing pulpotomies
September 15, 2016 – Department of Health confirms 5 water samples contained mycobacterium
abscessus from the practice's waterlines. Orders the practice to cease using water for dental care and install new water system. The practice closes.
September 29, 2016 – Mimi Morales becomes face of Anaheim Outbreak after infection required surgery to remove permanent teeth and part of her jaw.
October 2016 – The practice replaces entire water system
November 8, 2016 – Department of Health lifts cease order, the practice reopens. Confirmed infections cases reaches 50 children.
December 16, 2016 – Department of Health confirms multiple new water samples contained mycobacterium abscessus. Orders the closure of the practice.
April 11, 2017 – Orange County Register reports 58 lawsuits have been filed and 68 children have been infected.
April 18, 2017 – Practice allowed to reopen
Further Reading on the Anaheim Outbreak:
References:
1. Jasjit Singh, Kathleen O'Donnell, Negar Ashouri, Felice C Adler-Shohet, Delma Nieves, M Tuan Tran, Antonio Arrieta, Lisa Tran, Michele Cheung, Matthew Zahn; 926. Outbreak of Invasive Nontuberculous Mycobacterium (NTM) Infections Associated With a Pediatric Dental Practice, Open Forum Infectious Diseases, Volume 5, Issue suppl_1, 26 November 2018, Pages S29, https://doi.org/10.1093/ofid/ofy209.067
2. Perkes, Courtney. "7-year-old girl loses some teeth, part of jaw bone, after dental infection outbreak." Orange County Register, September 29, 2016, https://www.ocregister.com/2016/09/29/7-year-old-girl-loses-some-teeth-part-of-jaw-bone-after-dental-infection-outbreak/. Accessed December 20, 2018
3. Bharath, Deepa. "65 more families file lawsuit against Anaheim dental clinic on behalf of infected children." Orange County Register, January 18, 2019, https://www.ocregister.com/2019/01/16/65-more-families-file-lawsuit-against-anaheim-dental-clinic-on-behalf-of-infected-children/?fbclid=IwAR0dhx_8Px7hb5jEgq7hSJsUVn1dlsL36HSaocuxdE-IBM47xf7AtAuDFVI. Accessed February 4, 2019
4. Perkes, Courtney. "Most Influential 2016: Negar Ashouri was Doctor Turned Detective When Infections Hit Anaheim Dental Clinic". Orange County Register, https://www.ocregister.com/2016/12/23/most-influential-2016-negar-ashouri-was-doctor-turned-detective-when-infections-hit-anaheim-dental-clinic/. Accessed December 20, 2018